When I receive my rental golf cart, what are the next steps? How do I properly charge it?
(Sticker on each rental golf cart)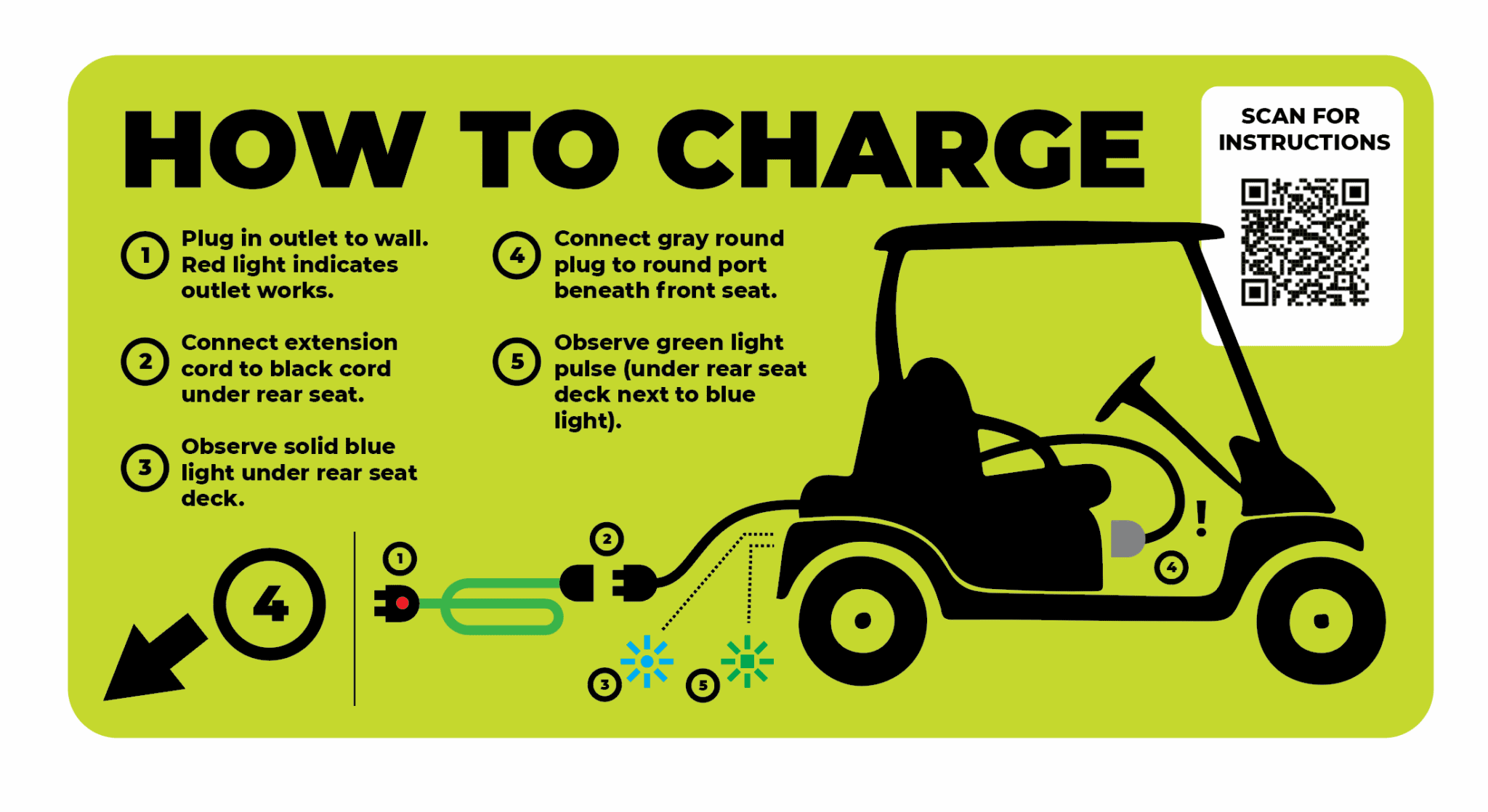 GOLF CART CHARGING
PLUG IN AC (BLACK) CORD INTO GCFI (WITH BUILT IN CIRCUIT BREAKER) OUTLET / USE 1 EXTENSION CORD PROVIDED WITH CART IF NECESSARY. IMPORTANT: DO NOT USE A DAMAGED OUTLET UNDER ANY CIRCUMSTANCES.
ENSURE BLUE LED LIGHT (ROUND LED LIGHT) IS ACTIVE ON THE CHARGER.
PLUG IN DC (YELLOW) CORD TO THE RECEPTACLE LOCATED UNDERNEATH THE F n R SWITCH (NEAR DRIVER'S RIGHT KNEE). ENSURE CORD IS FULLY INSERTED WITH OFFSET PORTION IN THE CORRECT POSITION.
VIEW THE LED LIGHTS ON THE CHARGER AND ENSURE GREEN LIGHTS (SQUARE LED LIGHTS) ABOVE PREVIOUSLY MENTIONED BLUE LED ARE ACTIVE / PULSING.
LARGE GREEN LED WILL GO SOLID WHEN 80% CHARGED, SMALLER GREEN LED LIGHT WILL THEN BEGIN PULSING. ALL LIGHTS WILL BE SOLID WHEN FULLY CHARGED.
ENSURE ALL CORDS ARE SECURE INSIDE THE REAR SECTION OF THE CART BEFORE OPERATING VEHICLE, IF ANY CORDS ARE DAMAGED IMMEDIATELY CONTACT THE STORE.
DO NOT CHARGE CART UNDERNEATH A HOME OR INSIDE OF A GARAGE, ALLOW FOR MAXIMUM VENTILATION! DO NOT USE A DAMAGED OUTLET UNDER ANY CIRCUMSTANCES.
READ OPERATING INSTRUCTIONS ON STEERING WHEEL.
---

RESERVE YOUR GOLF CART NOW